Using your Airline status for free party nights out!
Tweet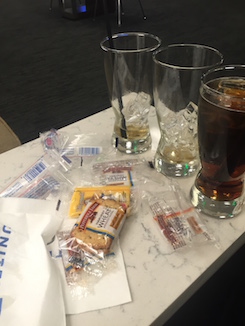 If you're a frequent flyer (like i've oddly enough become recently) you probably have status with your airline that gives you lounge access for when you're flying. Also, if you're a frequent flyer, you probably also really enjoy drinking and paying as little as possible for it. So here's a way that you (and sometimes also your entire family) can all have unlimited party nights out — on your airline's dollar!
Decide you want to party and not pay anything.
Go online and buy a refundable business or first class ticket with your airline to anywhere.
Go to the airport.
Check in, go past security and enter your airline's lounge.
Party.
Use the lounge's wifi to cancel your ticket (or call the airline to do it for you)
Leave.
Notice that you still have cash in your pocket!
Yes, it's abusive, but there you go.